Lighting Up The Perfect Moment
Lighting Up The Perfect Moment
Padel courts may be located both outside and inside sporting facilities. It is high-speeds sports – the lighting levels as well as the direction of light on the balls and on the players are critical. In flight, it is essential that the ball is always clearly visible. and Sometimes the ball will fly so high that it will hit a light pole or LED light and change the direction of the ball. So ArtPadel Developed the latest shape of the lamp pole, and according to the bending Angle of the lamp pole, cooperated with the LED lamp manufacturer to develop the lighting system which is very suitable for PADEL Court:
1,The shape of ArtPadel light pole is like the neck of a white swan, and its color design integrates the design of the PADEL stadium, which is noble and elegant.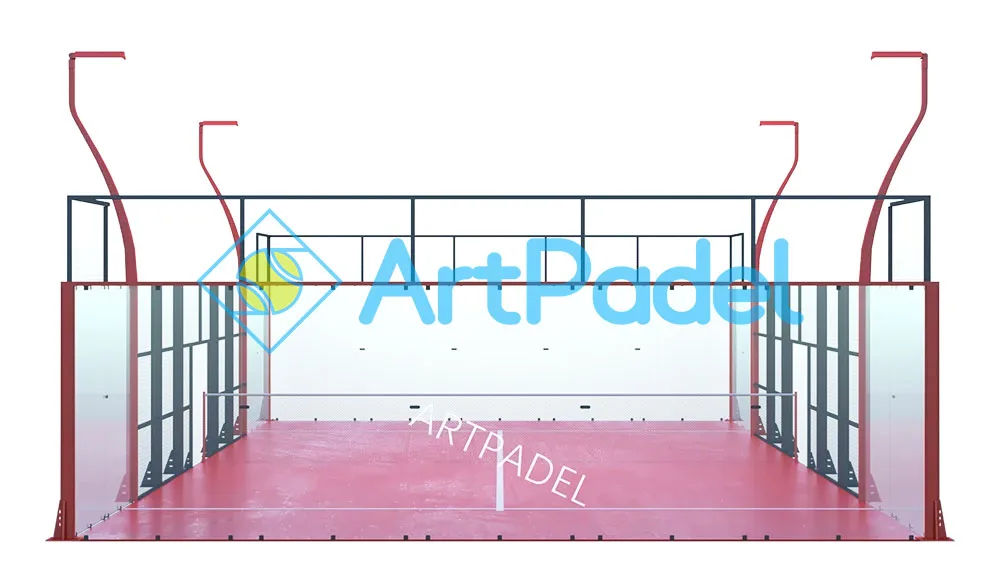 2,ArtPadel LED sports lighting solutions for padel courts comply with national and international standards. It includes a set of 4 High Quality LED technology spotlights of 300W, allowing 70% energy savings. They are special spotlights for sports courts with anti-glare technology. The light tone is white/cold. They have a 5-year guarantee from the manufacture.
2-1.High strength aluminum alloy housing with high-voltage electrostatic powder coating and heavy-duty anti-corrosion surface treatment.The lamp shell can be produced in different colors, such as red, blue, white, black, green, gray, etc., consistent with the color design of the lamp pole, making the whole padel field look integrated and beautiful. 
2-2.Higher fixture efficiency, high CRI, low light decay and energy consumption,minimise costs thanks to a low energy consumption and robust materials which guarantee a long lifespan;
2-3,Self-cleaning heat dissipation design, efficient and continuous heat dissipation, which is conducive to the rapid flow of cold and hot air, and is more conducive to the conduction and diffusion of heat from the center of the LED chip.
2-4, Advanced PC lens with anti-shock, anti-aging and high light transmittance.
2-5. Superior sealing structure design for better IP durability&reliability
2-6. Adopting excellent solution that a highly stable isolation constant current featuring short-circuit, over-voltage and over-current protection, high efficiency, good heat dissipation, etc.
2-7,Better designed light distribution for the light application with the soft and uniform light and no glare.ensure excellent visibility with a high colour rendering so players, referees and spectators can always see the ball, no matter how fast it is going;
2-8,Deliver high uniformity with an even distribution of light across the playing field surface so there are no dark spots or shadows;
2-9,Direct the light onto to the court to reduce light spill for the local neighbourhood and biodiversity;
2-10,facilitate an easy installation. Just need a O.D 60MM steel tube and keep its length 100mm, then Insert the lamp holder into the 60mm steel pipe, and then fix it with the supporting screws
Depending on your infrastructure and competition level, we can provide various LED lighting solutions for your padel courts
Be ready to play all night!